Tweezle's Game Room
This room hosts a list of links to all kinds of fun things for the family to do. There is nothing off color here, and is safe for all ages. Take a few minutes to look over the links. I'm sure you will enjoy them!

Fun and Game Links

Puzzle Page - Tweezle's own puzzles. Have a look!
12/7/98

Bonus.com: This site is full of games - educational as well as fun! A great place for kids and adults!!!!
Berenstain Bears Activities for Learning and Fun: Lots of activities to do!
CTW Family Workshop: Sesame Street fun and activities. Contains discussion groups, parent's information, children's activities.
Crayola: Lots of activities to do: crafts, coloring book, story time and more!
Dav's Page of Fun: Lots of activities for kids to do. Some to print out - for different levels - easy to hard. My son loves this site!
Disney's FamilyFun: Nice site full of activities, education, crafts, food, and parenting
Dr. Seuss: For every Seuss fan! Games, puzzles, quizzes, lots more!
Magic School Bus: Site contains an activity lab and kid's gallery
Tivoli Online: This is the famous Tivoli amusement park in Sweden. Neat site!
Warner Bros. Animation: Love Bugs Bunny? Look here! Games, shows, animation. Love Bugs Bunny? Look here!

Children's Crafts and Recipes!

Children's Crafts!: Here are some crafts to make for you and your family.


Kid's Recipes

Kid's Individual Pizzas
Ants On A Log
Mock Turtle Candy
Easter Nests
Crispy Rice Cereal Bars
Oreo Mints
Crunch Sticks
Kit Kats


Kid's Food Links

Kid's Food Cyber Club A fun place to learn more about good food.










See My Adopted Friends!
Because of the intensity of the graphics of all my adopted friends, I had to put them on new pages. These new pages may take a little while to load in, but I assure you that is will be worth the wait!
Isn't this hedge hog cute? Want to see more? Click here.
Please visit my little girls!
Sherriberry Graphics created Net babies
Want one of your own? Click on the pet.
The Good Steward Page - Our own children's study page
Wonderzone - Great place for fun, Bible activities and even cards to send!
Evangelizing Today's Child Magazine - I know this is for adults, but there are some child activities to print, stories, and interesting articles.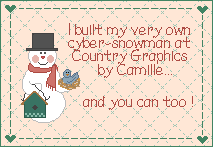 ---
---
Some Graphics used on this page
Copyright © Loraine Wauer Ferus