Tweezle's Pantry
Welcome to my pantry! This section is a record of what things I'm putting up on my pantry shelves this year. I'll also list where I obtained my recipe from, so that if you'd like to add anything I've made to your shelves, you'll know where to find the recipe.
2007
Canned

1 quart garlic cloves in oil (refrigerated)
1 batch Sweet Cherry Jam
1 batch canned peaches
1 batch peach pie filling
1 batch Peach Brandy Jam
1 1/2 batches Peach Jam
1 1/2 batches Spiced Peach Jam
1 batch Spicy Habanero pepper Jelly
1 batch Habanero Pepper Sauce
2 batches Barbecued Hot Peppers
1 batch Jim's Salsa (from Countryside Magazine)
1/2 batch Pickled Peppers
13 quarts and 5 pints tomatoes
4 quarts pears
1 batch Spiced Pear Jam
1 1/2 batches Pear Jam
1/2 batch Squash Relish from Heinz pickling booklet(DD made these!)
1 batch Tomato & Corn Relish from "The Joy of Pickling"
7 quarts and 1 pint Apple Sauce
2 batches Caramel Apple Butter
1 batch Apple Butter
10 pints meatballs
3 pints browned hamburger
6 pints hamburger with onions and peppers in tomato juice
7 pints hamburger with onions and peppers in water
1 batch Pineapple Sauce/Topping
3 batches Pickled Peppers

Frozen

5 batches Strawberry Rhubarb Jam
4 packages sliced onions for French Onion Soup (6 generous cups each)
26 cups chopped onions for cooking
3 packages chopped chives
3 pints peaches - sweetened
1/2 gallon bag flash frozen peach slices
7 quarts (generous) green beans
8 packages grated zucchini
1 quart flash frozen green bell peppers
3 generous quarts chopped green bell peppers
1 quart flash frozen Cubanelle peppers
4 generous quarts Cubanelle peppers
1 pint flash frozen red cherry peppers
1 batch Vera's Apricot-Zucchini Jam
6 pie crusts from "30 Day Gourmet"
9 generous quarts corn

Dehydrated

2 trays sweet cherries
5 trays onions
2 trays zucchini slices
3 trays peach fruit leather
3 trays hot peppers
23 trays apple slices
6 trays apple snacks
2 trays apples sprinkled with cinnamon and sugar

Herbs

Dried mint for tea
Echinacea tincture
2 quarts frozen chopped parsley
28 cubes frozen chopped parsley in water

Some Favorites from Times Past

26 quarts Maple Syrup
3 pints Strawberry Rhubarb Jam
10 half pints Dandelion Jelly
4 half pints Orange Dandelion Jelly
4 half pints Lemon Dandelion Jelly
3 pints Blueberry/Rhubarb Jam - "Lasagna Gardening"
8 half pints Lilac Jelly
5 pints Blackberry Jelly - Sure-jell insert
6 half pints Rhubarb-Strawberry-Orange Conserve - Ball Bluebook 1994 edition
1 quart Chive Blossom Vinegar (1&1/2 quarts still steeping) - "Lasagna Gardening"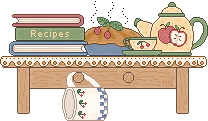 [Home] [Kitchen] [Homemaking]


All photos and information are copyright by Curt & Theresa Dunlap 2003-2007.

A HUGE thank you to Helena Normak for this lovely background set! This set was supplied by Graphic Garden and copyright is held by Helena Normak. Please respect this copyright and visit Graphic Garden to obtain your own sets.