My Favorite Cooking Links
Here you will find listed some of my favorite links. Since my list has grown so large, I have had break my listings up into 2 separate pages. If any links are broken, please let me know so I may fix them. If you know of any good links not listed, please email me and let me know so I may add them to this page and share them.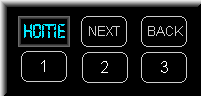 Please email me if you find some broken links, or would like to suggest a site to be included here. Thanks!!!!
---

This page has been drooled on
times.

---